[Archive] Dhamma-Talaka Peace Pagoda - News
Please note this page is here for archival purposes only (dating to 1998) - for current information on the pagoda, please go to the Birmingham Buddhist Vihara web site.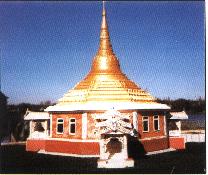 Earlier News ...
*** Kathina Day - October 19th ***
From the Autumn 1997 newsletter (No. XXV)
U Aye, one of our Myanmar sculptors, arrived in the middle of June to help with the Pagoda. There are now two Myamnar artists and two Indian helpers. Mr. Lal is supervising and organising the supply of materials. We hope that the external work on the Pagoda will be complete by early September. The installation of the electricity supply is already done. Internal plastering will start early September, and we hope that the flooring can be laid starting the first week in October; two of Bhante's students from Belgium will come to help with this. During the Summer retreat Marie-Cecile, Bhante's student for many years, helped with painting the 28 Buddhas made from moulded cement by U Win Tin.

Bhante arranged for the artefacts donated by devotees in Myanmar to be shipped to England (in a single container) and they arrived in England on 8th. August. These are a marble statue of the Buddha, a magnificent throne for the statue, a seat for the monks to preach from, decorative ceiling materials, a bell and the roof umbrella. Also shipped were the 52 volumes of commentary on the Tipitaka donated by Mar Mar Lwin.

We would like to thank the Myamnar authorities in Yangon for allowing for the shipment to take place so quickly. The Myannar Embassy in London is now making great efforts to obtain clearance from Customs and to make the other necessary arrangements. We are very grateful to them, and our special thanks go to U Hla Pe Than (Minister Counsellor).

It is our hope that everyone who comes to our Kathina Day on 19th. October will see the great progress which has been made in the construction of the Pagoda. After completion of the basic structure we will follow Myamnar tradition in applying gold leaf on the Pagoda. A base layer of brass is required first however. We expect an expert in this type of work to arrive in October to take measurements. The work itself will be done after Winter. When we celebrate the opening ceremony next year the Pagoda will have its covering of pure gold.
---
Kathina Day
The Birmingham Buddhist Vihara is celebrating
its 20th Kathina Day Ceremony
on Sunday, 19th October 1997
at
Dhamma-Talaka Peace Pagoda
Osler Street, Ladywood, Birmingham B16


This year's Ceremony will be sponsored
by
Mr. Martin Walker
Dr. Soe Win (Peter Bapu)
and
Dr. Thein Win Ohn Chein, Dr. Lynn Wynn Cho
and their children:
Sy Myat, Thet Mon and Soe Mon


You are cordially invited to attend the ceremony
and share Kathina Robe Offerings with
family and friends
---
On the close of the Ceremony there will be a Trustees Meeting held at the Pagoda.
Please Note
Several artefacts including relics of the Buddha, statues, gold ornaments, precious gems etc. will be enshrined in a sealed cabinet in the Pagoda during the Kathina day celebration. If you wish to enshrine any items to be enshrined you are welcome to do so.
The Programme
09.00am Setting up of Kathina Trees

10.00am Arrival at the Pagoda, Osler Street B16

11.00am Offering of meal to invited Sangha

11.30am Meal for laity

01.00pm Ceremony starts with welcome address and taking of Five Precepts

01.15pm Offering of Kathina Robe to the Sangha followed by chanting

01.30pm Sermons given by the Sangha in Burmese and English

02.50pm Transfer of Merit to all living beings

03.00pm Refreshment, Treasurer's report and report on Pagoda Project
---
Directions to the Pagoda
Note! If you can explain these directions better, then please let the Vihara know (and me too!)

From south via M6: follow to A38(M) (Birmingham Central) sign. Turn into 2nd exit Inner Ring Road (West) follow to Edgbaston / Ladywood sign. On the 1st. roundabout turn to 3rd exit; upon the 2nd roundabout 2nd exit; upon the 3rd roudabout go straight (passed garage on the left); upon the 4th roundabout 2nd exit (straight) upon the Sth roundabout 3rd exit into Icknield Port Road, then turn into 4th road on the right (Osler Street).
* From the 1st. roundabout until 5th roundabout is called Inner Ring Road (West).

From South Via M40 and M42: follow M6 and A38(M) (Birmingham Central) sign then follow as from above.

From North via M6 take the A41 following the West Bromwich sign, then turn into Birmingham sign A41 Birmingham Rd, Holyhead Rd, Soho Rd, Soho Hill and to under Hockley Flyover, follow Edgbaston / Ladywood sign, Ring Road; after flyover at the 3rd roundabout take 3rd exit into Icknield Port Rd, then turn into 4th road on the right (Osler Street).

From South-West via M5: follow A456 Birmingham sign (about 5 miles) Hagley Rd until the 4th traffic light; turn into the left Monument Rd. at the Ivy Bush Pub and then turn into 4th left Reservoir Rd then turn on the 3rd right Osler Street..

Birmingham Buddhist Vihara
47 Carlyle Road
Edgbaston
Birmingham
B16 9BH
United Kingdom
Phone/Fax: +44 (0)121 454 6591
May this project bring happiness to all beings!
---
Guide to the Pagoda | Buddhism: Main Index
---

- Paul Trafford (paul@chezpaul.org.uk)

Last updated: 16th June 1998