[Archive] Dhamma-Talaka Peace Pagoda - News
Please note this page is here for archival purposes only (dating to 1998) - for current information on the pagoda, please go to the Birmingham Buddhist Vihara web site.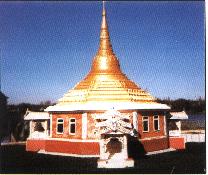 From the Spring 1998 newsletter (No. XXVII)
GENERAL NEWS
On 1lth. January we held a special meeting at the Vihara to discuss the arrangements for the Opening Ceremony of the Dhamma Talaka Pagoda. Many of our devotees attended from all over the country. We were very happy that so many people living so distant showed their willingness to give their support. During the meeting a Central Management Committee of more than thirty people was elected to oversee all the preparations. Dr. Thet Win was elected as chairman and Dr. Tin Win as vice chairman. Four sub committees were also formed: the Preparation and Decoration Sub Committee chaired by Dr. Khin Maung Thaung; Welcoming and Accommodation Sub Committee London area chaired by Dr. Aung Kyi Myint, and Birmingham area, chaired by Ann Lovelock; Catering Sub Committee chaired by Dr. Thein Win; and the Public Relations Sub Committee chaired by Yann Lovelock. If you would be interested in helping do please contact one of the sub committees.

The Central Management Committee expressed its acknowledgement and high appreciation for the tireless efforts and contributions of the life long patrons of the Birmingham Buddhist Vihara, namely Daw Ohn Myint Aye, U Khin and Dr. Aung Myin. Their work, together with our patrons and trustees, in supporting the Vihara and making the Dhamma Talaka Pagoda a reality are very much appreciated.

The central committee and all the sub committees will meet again on Buddha Day on Sunday l1th. May at the Vihara to discuss final arrangements.

...
* PAGODA OFFICIAL OPENING CEREMONY *
(I hope to make available a more detailed account soon)

The official ceremony to open the Pagoda took place over three days (Friday 26th to Sunday 28th June 1998). On the Friday afternoon there was a multifaith dialogue meeting whose theme was devotion, followed in the evening by a dhamma teaching and meditation. The main religious ceremony was held on the Saturday morning, with chanting from many different traditions. This was followed by the civic ceremony in the afternoon; again a dhamma teaching and meditation was held in the evening. On Sunday morning traditional Myanmar religious activities were held, followed in the afternoon by a seminar on Myanmar culture, Myanmar Buddhist literature etc., with a closing dhamma teaching and meditation in the evening.

Many eminent and distinguished guests were invited from all Buddhist traditions, representatives of other faiths, distinguished guests from central and local government, and ambassadors from the Buddhist countries. Many people came from Myanmar, USA, Japan, Australia, Europe, India and South East Asia. Owing to large numbers (there were more than 100 monks alone), the civic part of the ceremony was held in the Tower Ballroom situated very near to the Pagoda alongside the Edgbaston Reservoir; the religious ceremony and all other events took place in the Pagoda itself.
---
THE PROGRAMME
FRIDAY 26TH JUNE



2.00p.m.-5.00p.m.
Multifaith Dialogue:
Discussing "Devotion" according to their traditions.
7.00p.m.-9.00p.m.
Teaching of the Dhamma and Meditation.


SATURDAY 27TH JUNE

9.00a.m.-11.00a.m.
Religious Ceremonies:
Prayers and chanting by representatives of the main Buddhist traditions in Britain.

11.00a.m.-12.00p.m.
Offering of alms-food to monks and a meal for laity.

12.30a.m.-1.00p.m.
Asian traditional procession from Pagoda to Tower Ballroom.

1.00p.m.-4.00p.m.
Civic Ceremony:
To take place in the Tower Ballroom, situated near the Pagoda at the Edgbaston Reservoir.

7.00p.m.-9.00p.m.
Teaching of the Dhamma and Meditation.


SUNDAY 28TH JUNE

9.00a.m.-11.00a.m.
Transfer of Merit and offering of alms-food and gifts to the invited members of the Sangha.

2.00p.m.-5.00p.m.
Seminar on Myanmar Culture, Buddhism in Myanmar and Myanmar's contribution to the development of Buddhism.

7.00p.m.-9.00p.m.
Teaching of the Dhamma and Meditation.

ACTIVITIES AT THE VIHARA AND PAGODA
The weekly evening classes at the Vihara are progressing well: on Monday Vipassana meditation, on Wednesday Zen meditation, and on Thursday the beginners class. We continue to have visits and enquiries from schools and colleges, which are dealt with by Denys and Yann.

The main construction work at the Pagoda is now complete, and the final decoration and artwork is underway. Ven. Akkhayananda (who is returning to India at the end of February) has done a lot of painting work while he has been with us. We are now pleased to welcome Benjamin, a young devotee from Belgium, who is staying with us to help with general work at the Pagoda.
---
Directions to the Pagoda
Note! If you can explain these directions better, then please let the Vihara know (and me too!)

From south via M6: follow to A38(M) (Birmingham Central) sign. Turn into 2nd exit Inner Ring Road (West) follow to Edgbaston / Ladywood sign. On the 1st. roundabout turn to 3rd exit; upon the 2nd roundabout 2nd exit; upon the 3rd roudabout go straight (passed garage on the left); upon the 4th roundabout 2nd exit (straight) upon the Sth roundabout 3rd exit into Icknield Port Road, then turn into 4th road on the right (Osler Street).
* From the 1st. roundabout until 5th roundabout is called Inner Ring Road (West).

From South Via M40 and M42: follow M6 and A38(M) (Birmingham Central) sign then follow as from above.

From North via M6 take the A41 following the West Bromwich sign, then turn into Birmingham sign A41 Birmingham Rd, Holyhead Rd, Soho Rd, Soho Hill and to under Hockley Flyover, follow Edgbaston / Ladywood sign, Ring Road; after flyover at the 3rd roundabout take 3rd exit into Icknield Port Rd, then turn into 4th road on the right (Osler Street).

From South-West via M5: follow A456 Birmingham sign (about 5 miles) Hagley Rd until the 4th traffic light; turn into the left Monument Rd. at the Ivy Bush Pub and then turn into 4th left Reservoir Rd then turn on the 3rd right Osler Street..

Birmingham Buddhist Vihara
47 Carlyle Road
Edgbaston
Birmingham
B16 9BH
United Kingdom
Phone/Fax: +44 (0)121 454 6591
May this project bring happiness to all beings!
---
Guide to the Pagoda | Earlier News | Buddhism: Main Index
---

- Paul Trafford (paul@chezpaul.org.uk)

Last updated: 30th June 1998